Winning the Fisher Lottery, Continued

At the time I had NEVER considered the differences between martens and fishers, so I didn't know what was clearly cornered 10 feet in front of me. I could only compare her size and form to a hefty Tayra (Eira barbara) that I'd seen at a zoo - something like a giant weasel. She was astonishingly big, as big as my medium sized dog or a really big bobcat. She was ink black on that shady limb, with a hood of frosted hair on her neck, head, and face. Where the sun hit her rump, the fur had reddish hues. She also had a couple of small white spots on the breast and near the groin area. The tail was long and fluffy, counterbalancing a neatly muscled body. The ears were low on the head and rounded, while her face was beautifully chiseled toward a fine nose.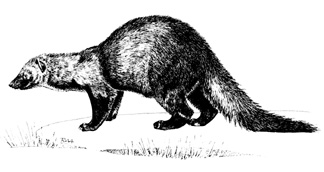 Because lithe pacing led her nowhere and I wasn't leaving the base of the tree, I got to hear her make a couple of soft squeaks, like short puffs of exasperation. Finally, she stepped toward me for an informative sniff, looking intelligent, calm, and curious. This changed, head-on demeanor alarmed me because I was suddenly eyeball-to-eyeball with a nimble carnivore, one with pointy teeth and claws and stuff. Her look and my memories of the ferocious reputations of two captive tayras among 1994 Sacramento Zoo keepers made me step backward and give her room. At that point, we were both ready to move along.
As the fisher vanished peacefully, I was still absorbing the experience. I'm still processing it, even when I'm not conscious of it. Upon returning home that day, I asked some knowledgeable people some questions and cross-referenced some mammal guidebooks. Although the guide illustrations couldn't quite match her independent aura and appeal, I knew that I'd won a wildlife lottery: I'd actually made eye contact with a fisher that day.