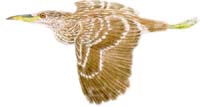 The Field Guide to the Birds of the Sierra Nevada Project
About the Project
The Field Guide to Birds of the Sierra Nevada will be of interest to anyone who appreciates the natural history of the Sierra Nevada, from the casual hiker to the serious ornithologist and the avid conservationist. This book will be published by the Yosemite Association, with partial funding being generously provided by the David and Lucile Packard Foundation. The authors are Edward C. (Ted) Beedy, David Lukas, and Stephen L. Granholm; the artist is Keith Hansen.

Species Accounts: Accounts of 322 regularly occurring Sierran birds will include: common and scientific names; the origins of these names, seasonal distribution and habitat requirements, natural history, and conservation status. All species accounts will be arranged taxonomically, according to the American Ornithologists' Union's Check-list of North American Birds (7th Edition). The intent of these accounts is to describe the species' habitats, behavior, and foraging and nesting habits in an informative and readable style. The "Featured Species," Common Loon, is a representative species account.
Color Plates: Keith Hansen is preparing 68 color plates that will illustrate all 322 species in full color. The plates will display male, female, and juvenile plumages of each described species as appropriate. As an identification guide, some groups (e.g., herons, egrets, waterfowl, shorebirds, woodpeckers, raptors) also will be pictured in typical flight postures. Most of the plates will group taxonomically-related birds together, but some also will include unrelated species that appear similar and are often confused in the field. Identification notes including size, plumage, and behavioral characteristics will be printed on the page facing each plate. Keith wants his art to evoke the true beauty of birds, and thereby to create a greater appreciation and knowledge of Sierran species and ultimately an increased desire to preserve them.
Geographical Coverage: This book will describe birds and their habitats throughout the Sierra Nevada, from Highway 36 (near Lake Almanor) in the north to Highway 58 (Tehachapi Pass) in the south. The western border will follow the lowest elevation foothill-oak woodlands (about 500 feet elevation). The eastern border will be defined by Highway 395 and will include several large, east-side lakes that are immediately adjacent to the Sierra (e.g., Mono Lake, Topaz Lake, and Honey Lake). These boundaries will be similar to the "core area" used for the Sierra Nevada Ecosystem Project. Habitats described in the book will correspond to the California Department of Fish and Game's Wildlife Habitat Relationships classification system.