MEMORANDUM
TO:
Vern Bleich, Tom Stephenson, DFG 20 January 2003
FROM:
John Wehausen, WMRS
SUBJECT:
Results of helicopter survey of Sierra Nevada bighorn sheep
This survey took place this morning. It began and ended at the Bishop airport and consisted of one fuel load. Weather was superb, with the coldest temperature of 25 F recorded at 13,000 feet and no wind at all. There were two primary areas of the survey: Mount Williamson and Bubbs Creek. The pilot was S. DeJesus. Observers were D. DeJesus, D. Jensen, and J. Wehausen.
No sheep or sign of sheep was found on Mount Williamson, despite a thorough search in all areas where sheep might have been expected. We looked first at the former front country (east escarpment base) winter ranges (Georges Creek including the area between Georges Creek and South Bairs Creek, 9 minutes; South Bairs Creek, 7 minutes; and North Bairs Creek, 7 minutes). At each of these locations we flew up drainage until there was enough snow that would reveal sheep tracks and then surveyed down to the lowest areas used by sheep in the past. From North Bairs Creek we surveyed around the front to Williamson Creek and then made a thorough search of the entire north ridge of Mount Williamson to 13,000', in addition to the plateau above South Bairs Creek (21 minutes). Finally, we looked carefully throughout the Shepherd Creek winter range at the confluence with Williamson Creek that has been used by sheep in late winter the past couple of years (10 minutes). Notable was the large amount of snow-free country up high. All high ridges were largely snow-free due wind, and with recent warm weather south facing slopes were often largely snow free to 9000 feet or higher. There were sufficient snow patches up high that sheep would be readily evidenced from tracks in snow; yet, they could easily be moving over much of the high country along the mountain crest using primarily open slopes. Our lack of evidence of sheep on Mount Williamson may mean that they are currently further west along the crest
From Shepherd Creek we gained elevation flying north into Onion Valley and crossed the crest at Kearsarge Pass. From there we flew directly to the summit of Mount Gardiner and then west down the ridge line where it was wind swept before heading directly to Charlotte Dome. From Charlotte Dome we surveyed the south-facing slope above Bubbs Creek. On our first contour we encountered a large group of sheep at 7,900 feet just east of the confluence with the Kings River (see map; 36" 47.176', 1 18" 32.200'). The helicopter caused them to form two groups that remained very bunched and even hid somewhat under mountain mahogany. We flew past them numerous times, but could not make a good classification due to their grouping behavior. Counts of the larger group were 12 - 13 total, and included 2 adult males probably not older than 4 years. The other group was counted at 5 and was only females, lambs and associates. Some slides and video footage may provide further details on these sheep. From direct observations, there were 16 -17 females, lambs, and yearlings, and 2 adult males. Although we looked at much of it, we did not finish the survey of this winter range due to limited fuel. There might have been more sheep at a lower elevation Our time allocation, including Mount Gardiner, was 25 minutes. The length of this winter range is about 4 miles. At its western extreme it drops as low as 6,500'. It is probably the longest expanse of south facing low elevation habitat available to sheep in the Sierra Nevada. It also may be a refuge free of mountain lions during winter if deer winter range is considerably further west.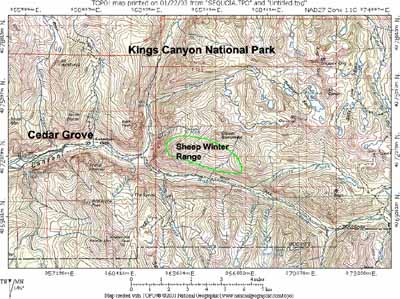 Kings Canyon National Park: Confluence of Woods and Bubbs Creeks. (Click to Enlarge)
The sheep seen in Bubbs Creek support the idea that this is an independent group of sheep living entirely west of the Sierra Nevada crest. As discussed in my annual monitoring report for 2002, this group is probably the result of a colonization by sheep from Kearsarge Peak around 1996. I was very impressed with the entire south-facing winter range west of Charlotte Dome. It was almost entirely snow-free. It is steep but not too steep (i.e. mostly cliffs), and it appears to offer a variety of forages. We observed numerous springs up in the rocks that supported dense stands of grass, some of which already appeared to be greening up. During a fixed- wing flight in the winter of 1997 this winter range was photographed and was then also snow-free. The long term performance of the sheep there will be the ultimate measure of how good this range is. It would be worth allocating more helicopter time to this winter range as well as other potential west slope winter ranges further north.

Population Total
In 2001 a conservative total population of sheep in the Sierra Nevada was 250. To this can be added the 11 sheep seen at Charlotte Dome (including 2002 lambs) that are sheep previously unaccounted for, as well as at least 5 more females in the Sawmill Canyon herd now known from genotypes. Additional lambs produced in 2002 in the Mount Baxter, Mount Williamson, and Mount Langley herd units totaled about 30, and additional lambs undoubtedly will be documented for the Sawmill Canyon herd. Lambs in the Wheeler Ridge and the Mono Basin herds will almost certainly bring the 2002 lamb total to more than 50. All evidence suggests that adult survivorship again has been high this past year. Consequently, it is very probable that reconstructed population sizes for 2002 developed in fbture years will put the total sheep numbers in the Sierra Nevada above 300, including 2002 lambs.
This figure can be developed independently. In this report I put forth likely round, but conservative, total herd sizes for all herd units except Mount Baxter and Sawmill Canyon that summed to about 210. The number of adult and yearling females in the Mount Baxter and Sawmill Canyon herd units can be projected conservatively to be 45. Even if the males in those herd units totaled oniy 30 (67 males: 100 females), adding 15 lambs fiom this year (assumes only 4 at Sawmill Canyon and Charlotte Dome combined) brings the total in these two herd units to 90 and the Sierra Nevada total to 300. Given the conservative nature of these projections, the actual total can be expected to exceed 300. Thus, for 2002, 300 is a reasonable and conservative round figure to use.
While continued population increase is a very positive sign, range expansion through translocations to additional herd units remains a major conservation challenge for these sheep.
For Further Reading:
Sierra Nevada Bighorn Sheep: a Brief History by John Wehausen
A New Herd is Discovered, Or Is It? From Sierra Nature Notes, News and Links.
Support the endangerd Sierra Bighorn Sheep. Join the Sierra Nevada Bighorn Sheep Foundation