Sierra Nature Notes, Volume 1, November 2001
Looking for the Past in the Higher Elevations of Kings Canyon National Park
by Thomas L. Burge and William Matthews

Thomas L. Burge, Sequoia and Kings Canyon National Parks, 47050 Generals Highway, Three Rivers, CA. 93271. [559-565-3139].
William Matthews, Giant Sequoia National Monument, North Zone Archaeologist, Sequoia National Forest, 35860 East Kings Canyon Road, Dunlap, CA. 93621. [559-338-2251].

Adapted from High Sierra Surveys in Kings Canyon National Park: 1997, 1998, and 1999 by Thomas L. Burge and William Matthews. A paper presented at the 27th Great Basin Anthropological Conference. October 5-7, 2000, Ogden, Utah.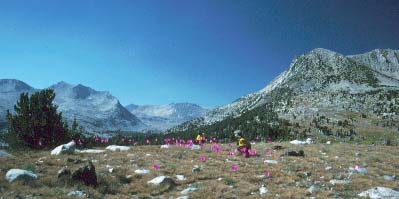 Native American camp with a view: archeologists mark lithic scatter and artifact finds with flags at Taboose Pass, Kings Canyon National Park.
Protecting Our Nation's Heritage
National Parks are charged with protecting a dizzying array of resources – both natural and cultural. The identity of natural resources probably comes easily to mind for most seasoned visitors. Such resources include big trees and deep canyons, flowing rivers and flowering fields, black bears and bison herds. Cultural resources on the other hand often take a little more time to bring into focus – ancient cliff dwellings, civil war battlefields, past presidents' homes, and marble monuments in the nation's capital are perhaps among the more quickly defined. Yet, mixed within the world of cultural resources is a great variety of singular, often subtle resource types. These types can include such things as stone bridges, bedrock mortars, house pits, hunting blinds, cabins, quarries, privies, and pictographs.
It is important to recall that the history of human use and settlement of an area can easily go back thousands of years. This human history can just as easily span a wide variety of activities, the evidence of which may be found in the archeological record. The archeological record itself can reflect activities that are either "historic" (associated with written records) or "prehistoric" (times that pre-date any written records).
Large gaps still exist in our knowledge of the past, particularly for the more remote, wilderness areas of the country. The higher elevations of the Sierra Nevada are just such an area. Numerous questions on the prehistoric use of the high country remain — questions as basic as who, what, where, when, why, and how. In an attempt to gather some preliminary information from one such backcountry area of Kings Canyon National Park, archeological surveys ("inventories") were carried out in the Bench Lake and Taboose Pass areas. In 1997-1999 small crews of park staff and volunteers spent from three to ten days conducting the archeological surveys.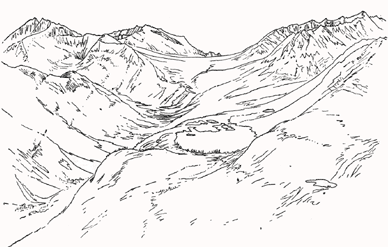 Taboose Pass (center) as drawn by Bolton Brown in 1895. Bench Lake is in the foreground on right.
From sierra.org. Copyright © Sierra Club. All rights reserved.
Native Americans in the Sierra High Country
By way of background, Taboose Pass is located at an elevation of 11,500 feet. It is situated at the mountain crest right at the eastern boundary of Kings Canyon National Park and the western boundary of the Inyo National Forest. The pass looks east over the Owens Valley onto State Highway 395, nearest Independence, California. Bench Lake, to the west of the pass, sits in a particularly dramatic setting, hanging like a large blue pool above the south rim of the upper canyon of the South Fork of the Kings River. Numerous, unnamed lakes and streams dot the glacially carved landscape.
Twenty-six prehistoric sites were recorded over the course of the three field seasons. The sites ranged from small, sparse lithic scatters occurring in shallow, open depressions to dense lithic scatters and larger occupations on well protected, tree-covered benches. Lithic scatters are simply surface-visible concentrations of stone ("lithic") chips, flakes, and tools. They most often mark the locations of prehistoric campsites and work areas.
While stone tools can be made from a variety of raw materials (e.g., flint, chert, or basalt) it is obsidian, by far, that is the most numerous artifactual material to be found at prehistoric sites in the Sierra Nevada. Obsidian is naturally occurring volcanic glass. Its great appeal is that it can be chipped into a multitude of extremely sharp tools and weapons (e.g., knives, scrapers, drills, and arrow points).
The vast majority of the area's obsidian came from obsidian sources just east of the Sierra, as there are no naturally occurring sources of obsidian west of the Sierra crest (that is, no ancient volcanoes from which to get the raw material). This important observation underscores the role of east/west trade among the different Native American groups on the opposite sides of the mountain range. In particular, chemical sourcing of 15 artifacts collected from the Taboose Pass sites has led to the identification of no less than five obsidian sources: Bodie Hills, Casa Diablo, Fish Springs, Queen, and Saline Valley I. All of these sources occur east of Taboose Pass, with their main quarry localities occurring in either eastern California or western Nevada. The Fish Springs obsidian source is the nearest to the survey area, being located approximately ten air miles to the northeast of Taboose Pass. Continued