Book Reviews
New and notable selections from the Yosemite Conservancy's bookstore, reviewed by George Durkee
In addition to the books below, check out our Naturalist's Bookshelf for recommendations on building a basic Sierra naturalist's library.

---
The Last Season by Eric Blehm HarperCollins (April 1, 2006)

In 1996, National Park Ranger Randy Morgenson left his backcountry ranger station on a 3 day patrol in Sequoia and Kings Canyon National Park. He left a note on his tent frame door that he'd be gone for several days. That was the last anyone heard of him. The Park Service spent weeks in a major search effort without finding a clue. Another search the following season also yielded no clues. Eric Blehm recounts not only the search but the story of Randy's life as a dedicated ranger and fierce advocate for wilderness.
Total Disclosure: I was a close friend of Randy and a fellow backcountry ranger heavily involved in the search. When Eric sent me the manuscript to read I found myself totally drawn into the story: "hmmm, I wonder what happens next?" Very weird, but a sign of a compelling narrative brilliantly told. Although Randy was having personal problems, which deepened the mystery about his disappearance, Eric is really telling the story of a person's love for the Sierra. Arguably, a love that might ultimately have doomed Randy.
Along with William Alsup's Missing in the Minarets, the Search for Walter A. Starr, Jr. (below) and Jordan Fisher-Smith's Nature Noir, this is another fine tale of a person who's life is deeply woven into the Sierra.
---
Wild Soundscapes, Discovering the Voice of the Natural World; A Book and CD Recording by Bernie Krause, Wilderness Press 2002
Our awareness of the natural world is primarily visual. Art, guidebooks and natural history writing concentrate on what we see in the wild. We are aware, of course, of the sounds of birds and streams but our language for describing sounds is much more limited than describing what we see. And, of course, we document our experiences with photos and drawings. In Wild Soundscapes, Dr. Krause takes an important step in changing this visual-centric way of describing wilderness.
Wild Soundscapes Discovering the Voice of the Natural World introduces soundscape as a complement to landscape. We learn about the biophony: a "creature symphony" or the collective sounds of a biome. A musician (formerly front man for The Weavers) and now a bioacoustician (one who studies the sounds of living organisms), Dr. Krause brings both a keen ear and an analytical discipline to soundscapes. Recording and then graphing the collective sounds of biomes throughout the world, he demonstrates that what might sound like disordered and random noise from different species are actually a cohesive symphony. The complexity and order of these sounds are a sign of the relative health of an ecosystem. Their analysis can be applied to different soundscapes and their health quantified.
One of his early discoveries was while recording the sounds of a spade foot toad (Scaphiopus hammondi) chorus at Mono Lake, California. During the recording, a jet flew over. The regular and synchronous rhythm of the toads – where no one voice was distinguishable – was thrown first into silence then, for several hours after the passing of the jet, the sounds of individual toads could be identified. Their rhythm had been broken and the individuals were thus easy targets for predators for hours afterwards.
Included with the book is a CD of samples of his work. A striking example of the use this science can be put to is comparison recordings of a stream and forest biome before and after logging. In the first recording (WAV) (MP3) a rich chorus of a variety of species of birds can be heard over the bubbling of a nearby stream. In the next recording (WAV) (MP3) taken a year after the area was logged, the stream can still be heard, but the chorus is greatly diminished. In addition to photographs and species surveys of logged areas, this is a dramatic way to emphasize the loss of diversity in a logged area. (Recordings © 2001 Wild Sanctuary, Inc. All rights reserved.)

Another of Dr. Krause's goals is to get people to begin recording soundscapes and so become more sensitive to the different types of sounds we can hear in a landscape. He explains the physiology of how we hear, recommends specific types of equipment and software to get, techniques to use when recording, then organizing and archiving your recordings.The amplification possibilities uncover a rich variety of sounds we otherwise might not notice. When was the last time you listened to ants?
Try leaving your camera at home next time and, instead, pick up Bernie Krause's book and a recorder.
For Further Reading
Also read our article: The Soundprints Of Science By Elizabeth F. van Mantgem
For more information on recording equipment and software, check The Sounds of Nature.
---
Missing in the Minarets, the Search for Walter A. Starr, Jr.
by William Alsup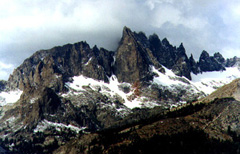 The Minarets from the east. Clyde Minaret is in the center to the right of the deep notch.
© Steven Bourelle, Sierra Visions
In the 1920s and 30s, a new generation of young climbers were scrambling among the high peaks of the Sierra, pushing routes up increasingly demanding technical rock. To achieve these summits, they were just beginning to experiment with new hardware and techniques. Today, their names – Jules Eichorn, Glen Dawson, Bestor Robinson, and Norman Clyde, to cite a very few – resonate with the daring echoes of this golden age of Sierra mountaineering. In August of 1933 one of these young men, Walter (Peter) Starr, Jr. took off from his job as an attorney in San Francisco to do a two week hiking and peak climbing trip, as well as continue research on a guide book to the John Muir Trail; a book that would become the now classic Starr's Guide. He did not meet with his father at an appointed rendezvous spot and a search was organized.
In Missing in the Minarets, the Search for Walter A. Starr, Jr., William Alsup recounts Starr's life, the search for him, and the tragic discovery of his body on a ledge in the Minarets by the greatest of those climbers, Norman Clyde. Long known to Sierra mountaineers, it has always been a terrific — and cautionary — tale around a campfire. Alsup has gone back through the extant diaries, Sierra Club publications of the incident (Starr and almost all the searchers were Sierra Club members) and, more excitingly, interviews several of the climbers who are still alive. His research is an invaluable addition to Sierra mountaineering literature. Missing in the Minarets gives details not only about the search for Starr, but provides a reminiscence of that magical period by the people who were there, telling us who these young men and women were, their climbing techniques then, and what their day jobs became.
Among many factoids that flesh these legends out, we learn: Lacking a pencil, Starr twice signed summit registers with his own blood; Jules Eichorn took piano lessons from Ansel Adams! How cool is that?
Although tradition and Sierra Club accounts paint the search as one of the first large Search and Rescue operations of the Sierra, I was struck by how short it actually lasted and how few searchers were involved. Peter was supposed to meet his father on August 7. The search had the first recorded use of an aircraft to aid in locating Starr, and it certainly had the strongest group of climbers who could be quickly assembled, but the first searchers did not arrive in the Minarets area until August 15th and they were all gone by the end of the day on August 18th!
All except the recalcitrant, gnarly and supremely patient Norman Clyde. Alone, he continued the search up and down the chutes of the Minarets. His discovery, on August 25th, of Starr's body is one of the classic (if a bit macabre) scenes of search and rescue literature:
As I carefully and deliberately made my way down toward the notch, I scanned and re-scanned the northwestern face. Much of it was concealed by irregularities. Suddenly a fly droned past, then another, and another.
"The quest is nearing an end," I reflected.


Finally, Alsup includes a recent account by climber and writer Steve Roper who visits the spot in the Minarets where Starr died and was interred. Roper looks again at the site and tries to reconstruct the accident that killed Starr; he also re-inters the now exposed remains.
To the respectable company of Norman Clyde's Norman Clyde of the Sierra Nevada: Rambles in the Range of Light and Steve Roper's Camp 4 – Recollections of a Yosemite Rockclimber, we can now add William Alsup's Missing in the Minarets, the Search for Walter A. Starr, Jr., allowing us mountaineer wannabes to relive these now-lost eras of Sierra adventure.