Sierra Nature Notes, Volume 2, May 2003
The Naming of Beetle Rock at
Giant Forest, Sequoia National Park
How the Rock got a Name,
The World Discovered an Insect,
and
An Enthusiastic Amateur Entomologist Started a Career
by John Lockhart, Education Coordinator
Sequoia Field Institute, Sequoia Natural History Association, HCR 89 Box 10, Three Rivers, CA 93271-9792
email: john_lockhart@sequoiahistory.org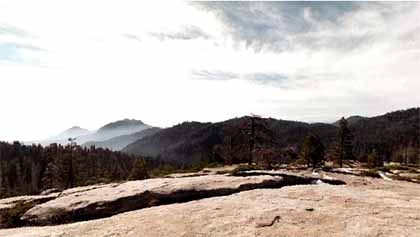 View from Beetle Rock, Sequoia National Park
The naming of Beetle Rock is only one of many inspirational stories that have happened there. Today, the Beetle Rock site is the location of an education center dedicated to enhancing understanding and appreciation of natural history. In 2001, with the restoration of the Giant Forest near completion, the education center moved into an old Park concession assembly hall built in 1940. First built with a stage and dance floor, the Beetle Rock building had served as a warehouse, ski shop, and dormitory. In 1941, ranger Douglass Hubbard met his wife-to-be, Fran, at Beetle Rock; three weeks later they were married: today, over 60 years later, they still are. Doug went on to be Chief Park Naturalist at Yosemite. Fran wrote children's nature books, among other things.[1] In the early 1940s, Sally Carrighar lived on Beetle Rock to research her first of many nature books, One Day on Beetle Rock, which tells the stories of various forest animals' lives and has become a classic in literature. In 1920, Sequoia National Park superintendent Walter Fry passed his leadership on to John White at a picnic on Beetle Rock.[2] Those two were arguably the most influential of all of Sequoia's superintendents.
It was in 1905 that Beetle Rock took its name because it was the site of the discovery of a species of insect then unknown to science: the beetle, Trachykele opulenta, discovered by amateur entomologist Ralph Hopping.
I first became interested in verifying the story that Beetle Rock was so named when I read a passage from Sally Carrighar's 1973 book, Home to the Wilderness, her autobiography describing how she came to be a nature writer. This is the most recent reference to the naming of Beetle Rock.[3] She wrote:
The upper field of the Rock might be a sheet but cracks and clefts broke it up much as a beetle's back is divided - not the reason however why it was called Beetle Rock. An early-day entomologist had found a rare beetle on it, after which it became "beetle rock" to him and gradually was so called by others. I had tried, unsuccessfully, to find out what this beetle was so I could see if it still was there, but wildlife would not be scarce: that was plain from the first sweeping glance and hearing chirps and songs from the forest border.
The Rock was named in 1905 when a new species of beetle was there discovered by Ralph Hopping, a Government entomologist.
Mr. Ralph Hopping (the son) was a most enthusiastic amateur entomologist and the forest, to him, was a happy hunting ground. To be on the spot [Giant Forest, Sequoia National Park] during the summer season (this was after the Colony [Kaweah Common Wealth] had been broken up) he with the permission of the park authorities and with the help of his wife conducted a camp for the entertainment of visitors. . . .  Later Ralph was appointed as forest Ranger at Greely [Colorado, Canada? This would be out of chronological order with the known time line in 1905-1906 he was in the Giant Forest area] - this gave him the opportunity of his heart's desire. He discovered a specimen of the bug species not then of record but which is now duly cataloged as is customary - with finder's name allied with that of the bug (I think that Ralph appreciates the honor more then the bug). Being thus himself "discovered" he was given a position in the U. S. Entomological Dep't and was located in San Francisco.
"Ralph was also an enthusiastic student of entomology, and later when serving as a ranger in General Grant Park, he discovered a species of theretofore unknown insect. This brought him great notice in the scientific world and launched his career as an entomologist."
The following fine species of Platycerus and Pleocoma are somewhat recent discoveries of Mr. Ralph Hopping, of Kaweah, California.


I take pleasure in dedicating this fine species to friend Hopping, whose exploration in the Californian Sierras [sic] have brought to light not a few new and interesting species.
---
Appendix:
1. Biography R. Hopping
2. Further resources of information on Hopping
3. In response to a request for information
4. Photos of Ralph Hoping
5. Additional Photos of T. opulenta